Share partners with Coro Music to provide music programs that have been curated by therapists and music designers to support specific moods in your community. You can use the Therapeutic Music area in the admin console to schedule music programs to play in the background of your digital signage. You can also connect a digital signage player directly to your overhead music system to play scheduled music programs throughout your community. Additionally, music programs can be stopped and started as desired in On Demand mode.
To schedule a music program in the admin console, click on Therapeutic Music, then click New Program. Start by entering a name for the program, such as "Daily Waking Music." Then, click Select a Different Program.
Selecting a Program
The program selection tool will walk you through selecting a program type and then a genre.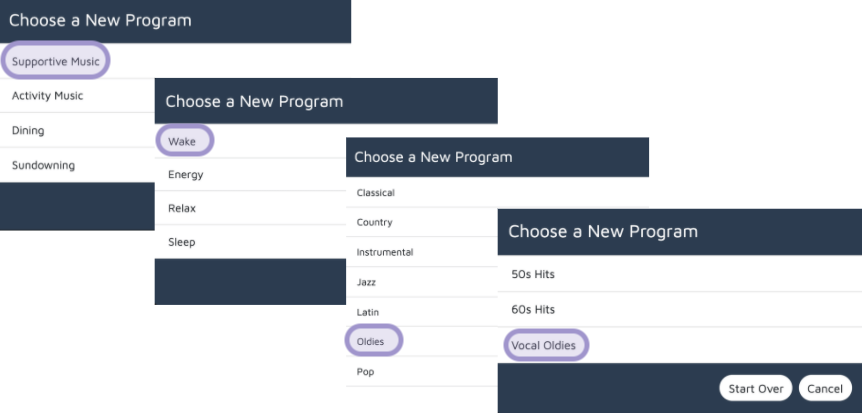 Program Type
The program selection process starts by selecting which type of program you need - Supportive, Activity, Dining, or Sundowning.
Supportive Music
Supportive Music focuses on supporting the following outcomes:
Wake - gently awaken without unwanted changes in pulse, blood pressure, or mood. Begins with ambient music, then gradually increases in rhythmic qualities and tempo.
Energy - increase liveliness while decreasing depression, fatigue, and sedentary behaviors. Higher tempo, with more active characteristics, complex texture, and familiarity to stimulate the mind.
Relax - create a relaxing environment by reducing stress, easing muscle tension, and minimizing anxiety. Incorporates lower tempos and less complex textures.
Sleep - selections decline in tempo and complexity to provide support while heading into slumber.
Activity Music
Activity Music helps accentuate the environment for the following types of activities:
Birthday Parties or Ice Cream Social
Salon Day, Spa Day, Manicure/Pedicure, or Massage
Happy Hour or Wine Tasting
15 Minute Exercise, 30 Minute Exercise, or Yoga
Baking
Dominoes
Word Search, Trivia
Jewelry Making
Devotional/Spiritual
Holiday
Dining Music
Dining music programs are designed to support an increase in food consumption, aid in digestion, and mask unpleasant sounds. Breakfast and Lunch programs support happy, energetic, and engaging environments, while Dinner supports a comfortable, calm, and relaxed environment.
Sundowning Music
Sundowning programs are designed to minimize the behaviors associated with sundown syndrome, including mood swings, agitation, and paranoia. Sundowning programs are available in durations of one hour or two hours and twenty minutes.
Genre
After selecting the program type and subtype, select one of the genres and subgenres available within that program type. Genres vary depending on the program type selected. View a list of all of the genres available here.
Setting a Schedule
After selecting the program, choose the schedule on which the music should play. Set the time when it starts, the duration (2 hours or less), and the days of the week it should play. Music schedules are always treated as recurring, so if you select that a program should play at 9am on Monday, it will play at 9am every Monday.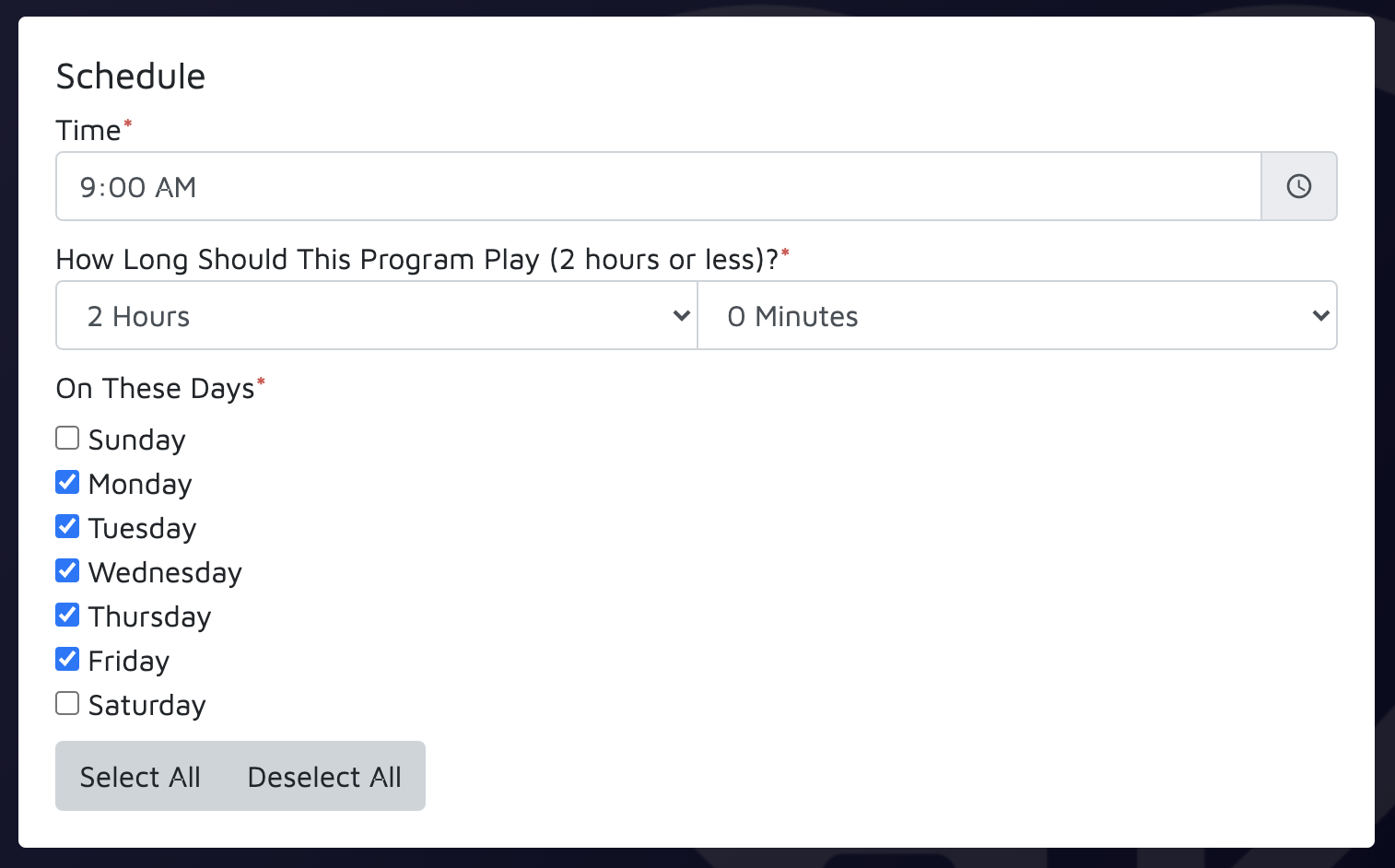 There are some important things to note about music schedules.
Music programs are inherited like other content. If a program is scheduled on the Campus community, that schedule will be used on every unit at that campus.
Only one music schedule can play at a time in a particular community. If two programs are scheduled at the same time on the same community, neither program will play.
If your digital signage slideshow contains videos, the music program will automatically pause while the video plays and will restart after the video finishes.