The Audience Engagement Framework (AEF)
A Digital Signage Strategy to Inspire Action Through Communication
The Audience Engagement Framework is the foundation for any digital signage strategy looking to optimize and boost communication, productivity, and participation by employing concise and polished bursts of information to catch your audience when they are in their most vulnerable state.

Building Your Digital Story
There are two main components to composing your Digital Story: Design and Data. Utilizing these pieces to Design visuals to maximize engagement and incorporate core and socially relevant Data to optimize your messages for playback, we will be able to determine the Devices that will best deliver your Digital Story to your audience.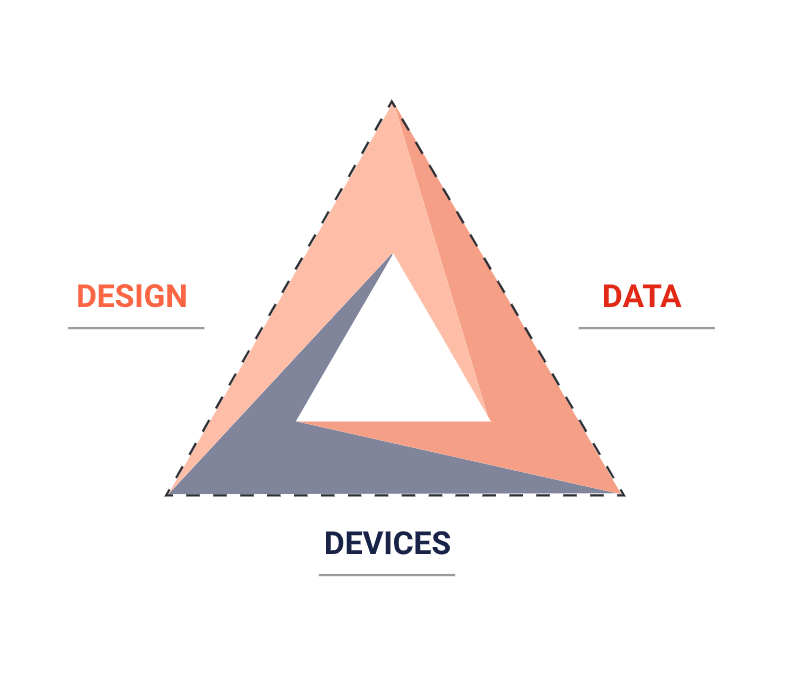 Design
Content is the first thing your audience will see when they engage with your digital signage, so you want your design and messaging to be tidy and clear to present your organization with credibility and personality.
Motion draws eyes to the screen. We are hardwired to detect movement, but for engagement it needs to be the right amount to make sure the information is clear and understandable.
Multiple Visuals keep engagement high. Displaying at least two separate visual assets gives you the ability to target multiple audiences, as one asset may not keep people engaged if the message doesn't resonate.
4 - 8 seconds per visual asset allows enough Time to process the information. Having content up on the screen for only a few seconds doesn't give the viewer enough time to register the information, and having content up on the screen for a minute or more is too much time to dwell at a screen in today's fast-moving society.
Choose Colors that elicit an emotional response. It's always smart to stick with your brand colors and guidelines, but switching up the color scheme for your content can give your content new life! For example, red is good for grabbing attention for emergencies, but it can also provoke a feeling of passion and excitement.

Data
In a time where there are infinite data points, and even more ways to portray and interpret the data, we believe there needs to be some middle ground in regards to what and how much should be used in communication. You can't have so few that you almost neglect that it is important to your audience, but you can't be so data heavy that people are overwhelmed with metrics and numbers.
To optimize results, your Core Messaging, which can include brand, sales, and productivity messaging, should be about 30% of your scheduled playback.
On the other hand, Personally Relevant Content, or Socially Relevant Content, should be the remaining 70% of scheduled playback. Examples can include weather, date and time, current news events, social media, and fun facts. Using this information helps keep your audience engaged with content that draws eyes to the screen when they are vulnerable.
Devices
Once your Digital Story has been established, the final objective is to find the right hardware to complement the story. Using the story, while also taking into account the Purpose, Availability, and Limitations of the hardware, your device should not only bring the story to life, but emphasize the key aspects of your messages.