The Spectrio On-Premise Messaging & Music App is a simple way to manage your content from anywhere. These instructions will walk you through the initial setup and navigation of the app.
Initial Setup
Login Email
Once your portal has been configured by Spectrio, you will receive an email containing your username and temporary password.
When you log in to the portal, you can change your password by clicking the "Change Password" link in the upper right of the page.
Please note that Spectrio does not have access to your password. If you lose your password, we can reset it but we cannot tell you what your lost password is.
Logging In to the InspireX App
Please see this article regarding how to log in.
App Overview
Basic Layout
The app is composed of 4 sections:
Navigation Menu

Now Playing

Player Status

Current Messaging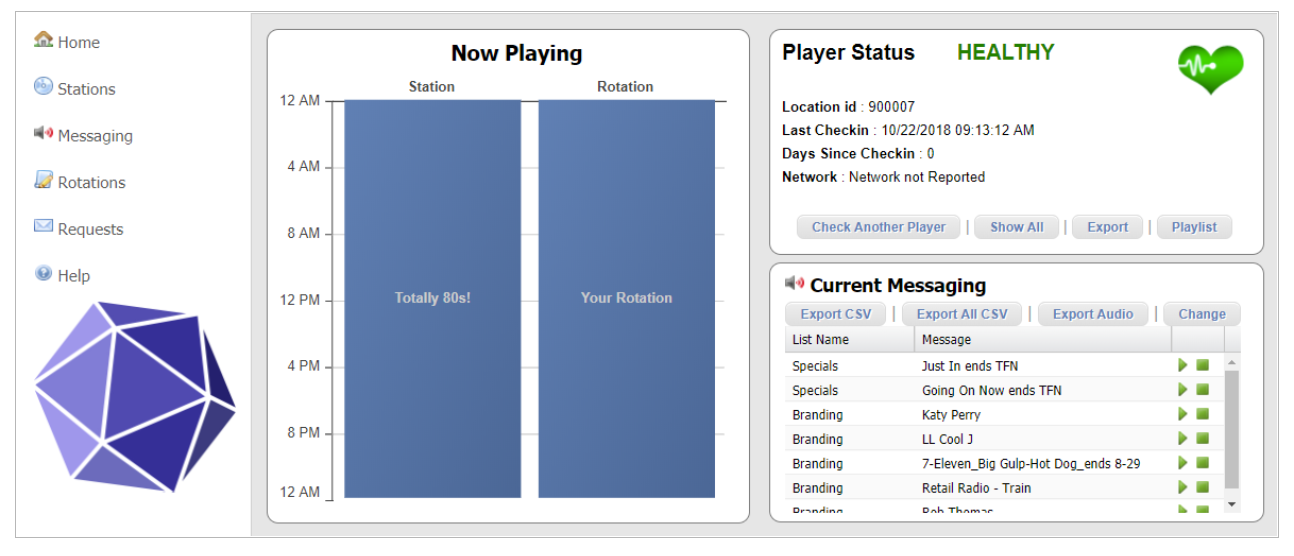 Navigation Menu
This is a quick action launch to advanced sections
Now Playing
This section shows the genre of music currently playing, as well as the rotation schedule (your mix of music and messages).
Player Status
This section shows the Location ID of your player and if it is online, healthy, and communicating with the servers. You can view other players you have access to, and see the day's playlist from here.
Current Messaging (for On-Premise Messaging subscribers)
If your location is subscribed to our On-Premise Messaging service, this section shows which messages are currently scheduled in your rotation. Messages can be played from here using the green play button.
How To
Changing the Station
Easy One-Touch Station or Genre Changes
When you mouse over the Now Playing Station (blue bar), you will see a popup that says "Click to change."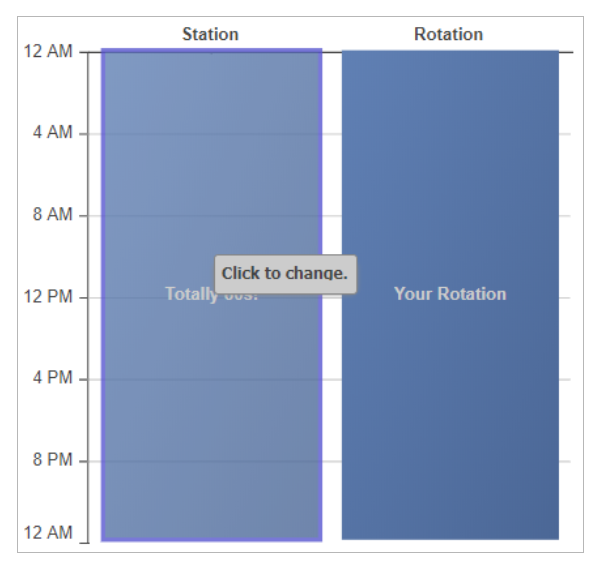 Once you click the bar, the "Change Current Station" screen will be visible with all the station cards that are available for you to choose.
Click on a card for information on that specific station, including the type of artists on the station as well as a description of the music.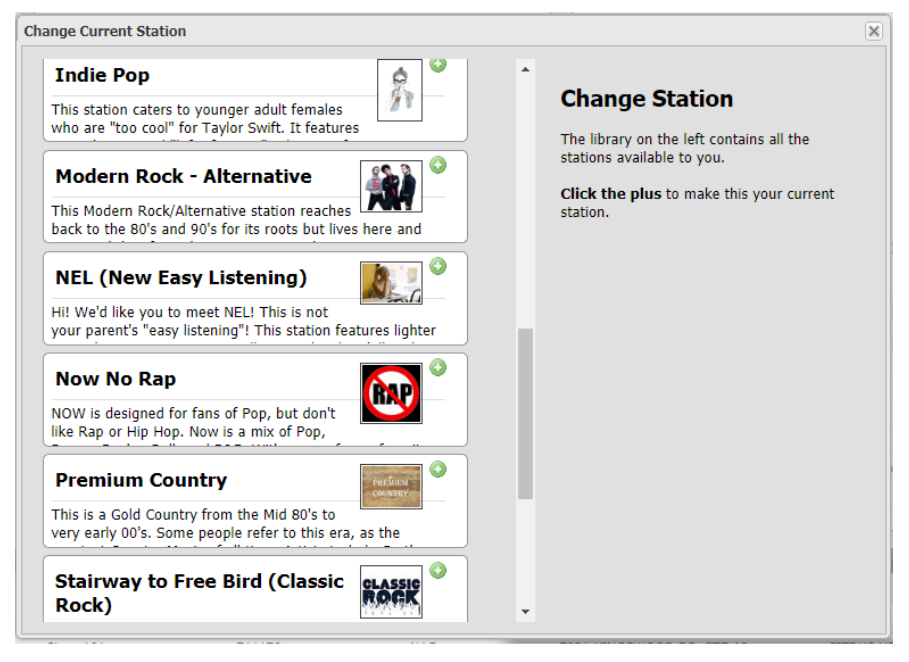 To choose a station, click the green plus button to the right of the station card.

As long as your player is online and healthy, the selected station will begin playing within 15-20 minutes.
Creating a Custom Station Blend
On the left side of the page, click Stations from the Navigation Menu.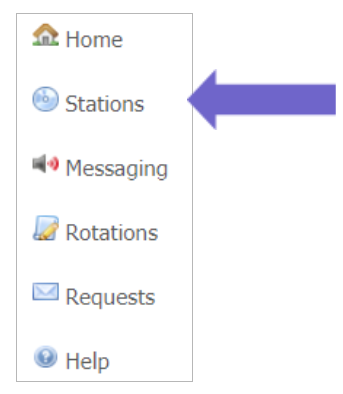 Then, click the green Create button in the lower right.
The "Create a Station" card pops up.
Fill in the station name, and include a description and/or image if you like. Click Save.
You'll now see your newly created station in the station list. Click the plus button to the right of "Mix Stations" and begin clicking the green plus button next to any genres you'd like to mix in your new blend.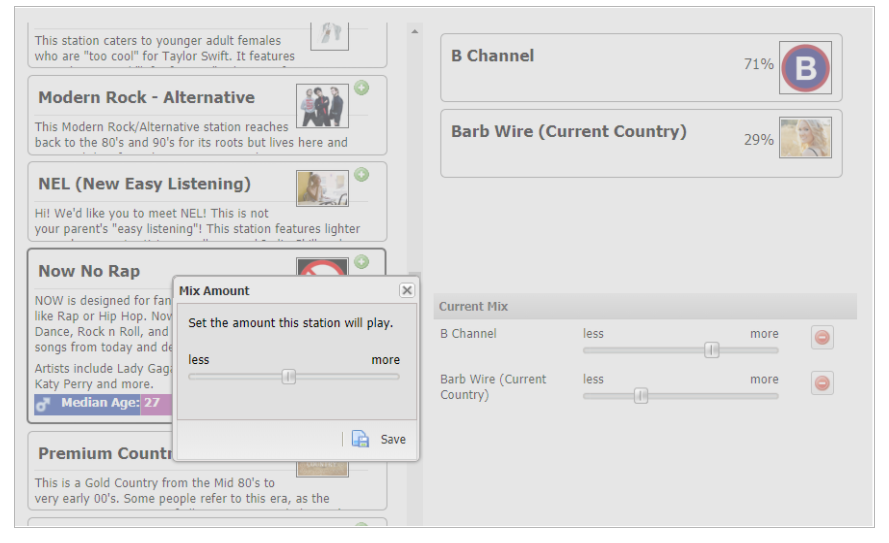 Once you select the stations, you can use the sliders to adjust the percentage of each of the genres to give your new station the right feel.
You can also go back into your station and make live adjustments, like changing the percentage or excluding a particular artist or song. Once you are done, your new custom blend is available along with all your other stations. It is accessible by hovering over the blue bar and selecting "Click to change" as described above.
Excluding A Song or Artist
If you wish to exclude a song or artist from your playlist. Note, at this time including a song or artist is not an available option.
From your homepage, select Station to the left.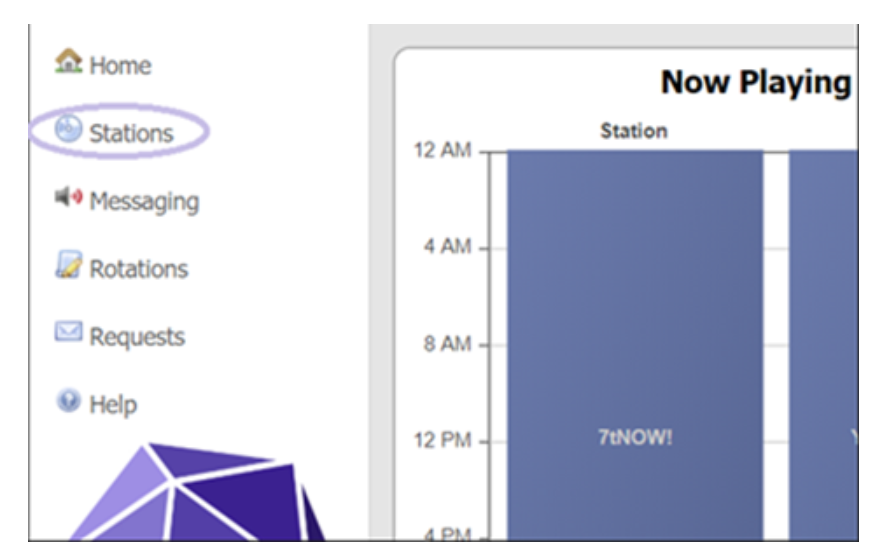 Now select EXCLUSIONS on the lower right.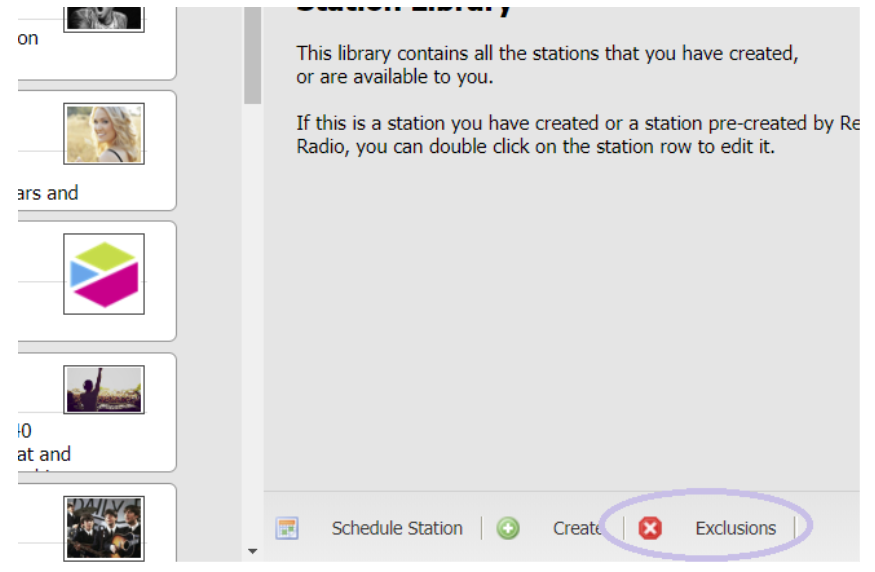 Now you can search by songs to exclude by artist or title.
This feature will exclude the chosen song or artist from any STATION you schedule at your location.
Need assistance with anything?
Give our Client Care team a call at 800-584-4653 x6377


Advanced Features
Day-Parting Stations
If you would like to select specific stations to play during certain times or days, this is called day-parting.
On the left Navigation Menu, click Stations and select Schedule Station (located next to the Create button). You will see the calendar widget showing which station you have scheduled to play every day of the calendar year from midnight to midnight.

Click Schedule Station in the upper right of this screen and you can schedule different stations for different days or times of the day. In the example below, Indie Pop will play every day from 8am until 2pm until January 23, 2019.

If you go back to the calendar widget, you should see that your newly-scheduled station (Indie Pop) is playing from 8am to 2pm daily, and your previously scheduled station is playing during the other parts of the day.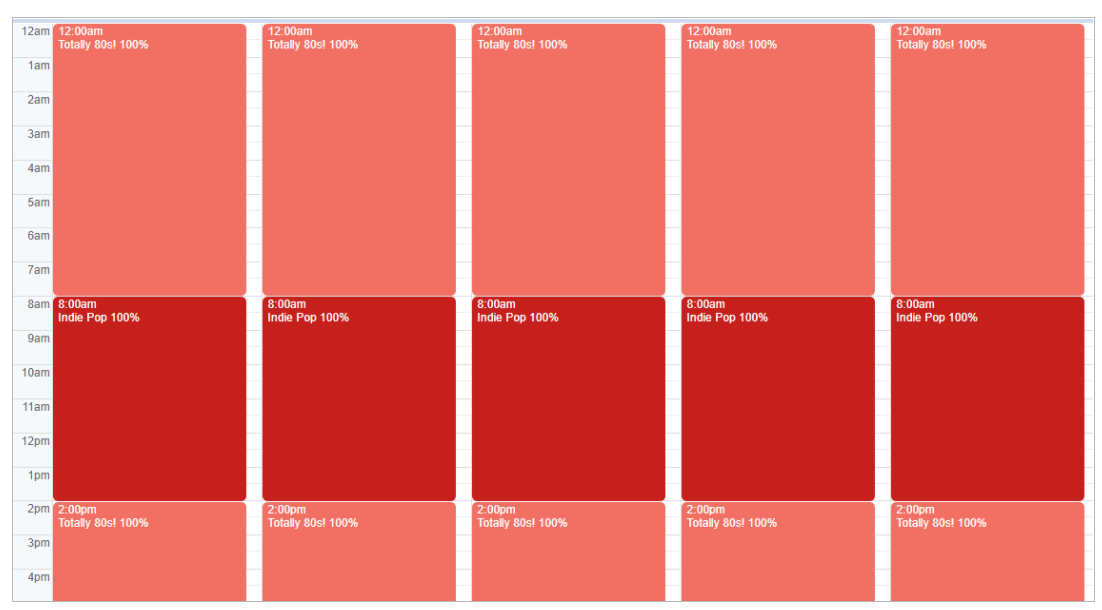 You can also see the day-parting reflected on the homepage.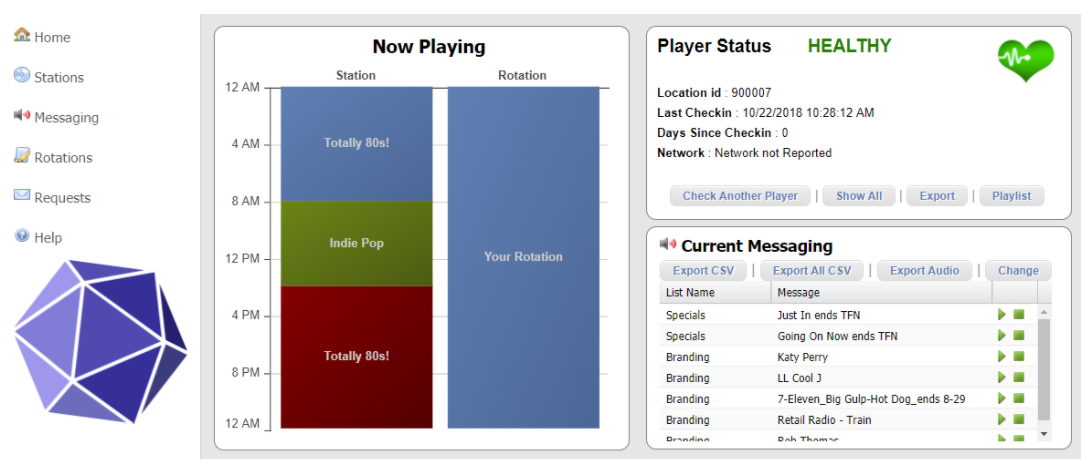 Need assistance with anything?
Give our Client Care team a call at 800-584-4653 x6377