System Diagnostics
Monitor system processes, review event logs, and examine the overall performance of your digital media network
Introduction
The System Diagnostics tool within CommandCenterHD affords system administrators the ability to monitor system processes, review event logs, and examine the overall performance of their digital media network from anywhere in the world.
Key Features
View current status of all Media Players assigned in CCHD

Tiered event reporting monitors the health of your digital media network

Searchable archive of historical device events
Event Types
System Diagnostics displays four different event types. They are tiered for severity, and color-coded to help you to easily identify successful syncs or potential issues.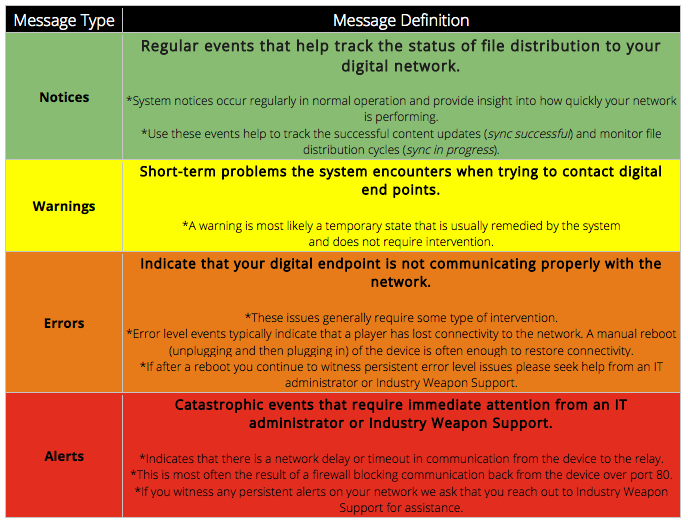 Accessing Your System Diagnostics
Click anywhere in the system diagnostics box on your main dashboard screen to see more system event details. You can also access system diagnostics by hovering over the wrench icon in the top navigation bar and select System Diagnostics in the drop down.
Note: If you do not see System Diagnostics you'll need to work with your admin to be granted access.
System Diagnostics Page Layout
Navigating the System Diagnostics page can be simplified by using the search tool in the upper right corner. Search by device name, device ID, or IP address in order to locate a particular device. To obtain a list of recent events on a device, click "More Events" on the corresponding line of that device. Click the "Historical" tab in the upper left corner to browse the event history of your devices within a particular time frame.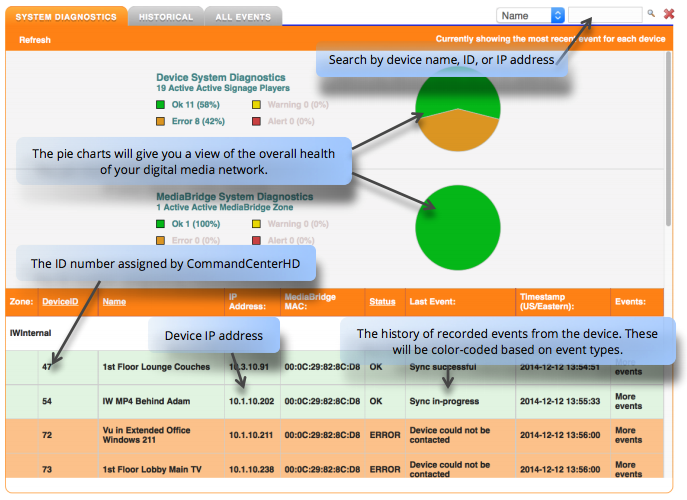 Common Errors and Their Potential Causes
System Diagnostics reports the device events, causes & solutions outlined in this section.
No Events Reported From Device & Device Could Not be Contacted
If diagnostics reports either of these errors it may mean that your device is not connecting correctly to the network. We recommend checking the next 3 items:
Reboot the media player

Confirm network cable is correctly connected to the media player and to the wall/or networking source

Confirm all required ports are open per our networking topologies found at https://www.spectrio.com/acquisitions/industry-weapon/ and clicking on Support.
VIDEO
Device Authentication May be Incorrect
If diagnostics reports that Device authentication may be incorrect then you can check the following:
Web account password incorrect for device in CCHDYou want to check the web account password in CCHD. In order to test this password, enter the IP of this player in your browser – try to login to device with web account credentials in CCHD. If these are incorrect you will need to consult with the installation provider.
VIDEO
Media Length Query Failure & File Not on MediaBridge
If diagnostics reports either of these errors, Scheduled media has not yet been downloaded to your MediaBridge for distribution. You can check the following:
If your diagnostics reports Media Length Query Failure or File Not on MediaBridge this generally indicates scheduled media has not yet downloaded from the cloud to your MediaBridge. The most common resolution is to give the MediaBridge some time to finish downloading the required media. If the issue persists, please reach out to Industry Weapon Support.
VIDEO
Create Device Common Directory Failure
If diagnostics reports a Create Device Common Directory Failure or Set Device Defaults Failure you can try the following:
Reboot media player

Ensure the proper model of player is selected
VIDEO
State Synchronization Failure
If diagnostics reports a State Synchronization Failure you can try the following:
Ensure that there is content scheduled to playback on the media player at that current time/date.
VIDEO