Table of Contents
What's in the Box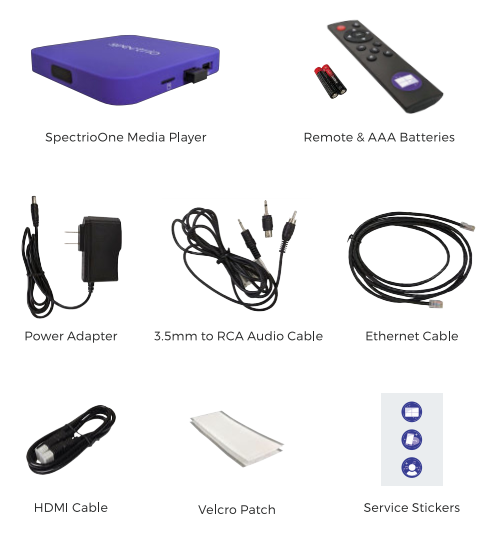 Hardware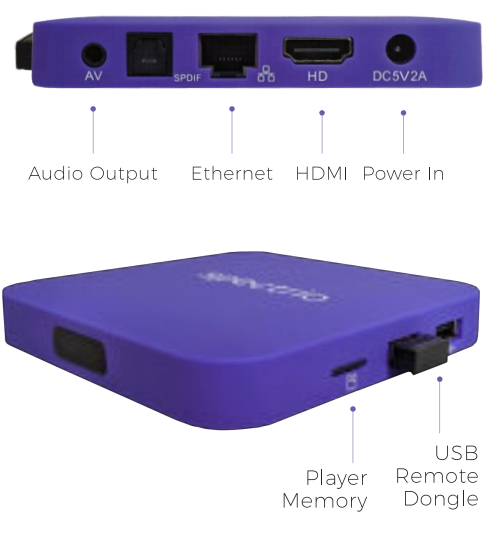 Digital Signage Installation & Setup
Install Your Media Player
Your media player should be installed in an easily accessible location. Install it on the top, bottom, or side of your TV, or at the top of your TV's back side using the included velcro strips. Or simply place it on a table. Position the black side facing the space where you plan to use the remote.
What You'll Need
HDTV with an available HDMI input
Broadband Internet connection
Wired or wireless network
Power outlet near your HDTV
Connect to Your TV
Connect an HDMI cable (3ft/1m cable included) between the HDMI port on your media player and an HDMI IN port on your TV.
Many TVs have multiple HDMI inputs. Make note of the number you use (for example, HDMI 3).
Power On
Insert two AAA batteries (included) into your remote by turning the remote over and sliding the bottom half downward.
Connect the power adapter to your media player and a power outlet.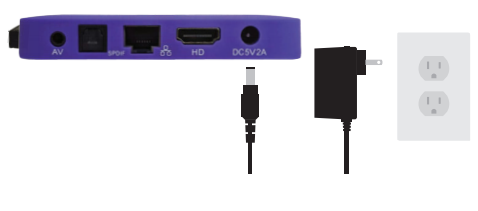 Home Screen
Your media player will start up to your Home Screen. Before you can begin playing content, you must connect it to the internet.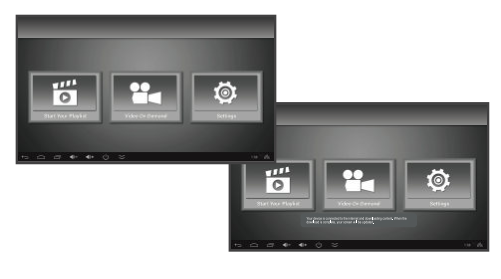 TIP: If your media player begins playing content automatically, you still need to connect it to the internet so it can receive changes and updates.
Remote Functions
Your media player receives commands from the remote via the USB dongle.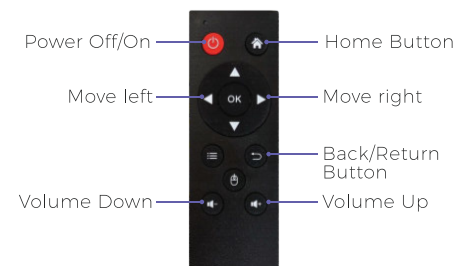 TIP: Pressing the Home button brings you to the Home Screen anytime.
Connect to the Internet
To use your media player, it must be connected to the Internet. The player is configured for DHCP by default.
Connect via WiFi
From the Home screen, use your remote to select Settings, then Network. Select WiFi > WiFi device > WiFi device on. Select your WiFi network.

Enter your WiFi password using the on-screen keyboard, then press Connect. Once connected, press the Home button.
Connect via Ethernet
For a wired connection, use an ethernet cable (not included) to connect your media player to your router. In most cases, the media player will connect automatically.
For static network assignment, from the Home screen, select Settings > Network > Ethernet > Advanced Options > IP Settings > Static.
Enter your IP address, subnet mask, default gateway, DNS 1 and/or DNS 2.
Customize Your Screen & Content
To finish setup, access the EngageDSX app via SpectrioCloud at cloud.spectrio.com. Generally, your SpectrioCloud login is your email address and your account number (case sensitive).
This article explains the basics of how to use the EngageDSX app to complete setup of your hardware and customizing your content.
Getting More Help
If you need help, you can find How-To videos within the EngageDSX app.
For personal assistance, contact us directly.
Phone: 800.584.4653
Email: support@spectrio.com
Managing Your Account
SpectrioCloud
Whether you use just one Spectrio tool or several, you can manage everything online at cloud.spectrio.com. Generally, your login is your email address and your password is your Spectrio account number.