Combo Player/MediaBridge Configuration
IW Combo Requirements
The first step to configuring your Spectrio Smart Player is to ensure the necessary hardware connections are in place. This includes a power adapter, DisplayPort cable, and an Ethernet connection that conforms to the Smart Player network topology.
The combo player requires two IP addresses: One for the player (can be DHCP) and one for the MediaBridge (Must be static) running in the background.
CommandCenterHD Zone Setup
Configuring your Account to work with your MediaBridge
Login to your CommandCenterHD account.

On the CommandCenterHD Dashboard, hover your mouse over the wrench icon in the upper right and then click on the Configuration link.

Click on the Add Zone button.

Choose a Zone Name and a Zone ID to associate with this MediaBridge.

To save your changes click on the Save Zone button.
*Make note of your Account Name, unique pin, and Zone ID from this page before moving on to the VMWare MediaBridge Setup.


IW MediaBridge Combo SmartPlayer Setup Instructions
Enabling/Configuring the MediaBridge
The MediaBridge IP must have outbound access per the relevant topology for your deployment.
Navigate to the player's IP address in a web browser.

Login with credentials (Default is admin/default).

Navigate to MediaBridge Configuration and fill in the network information which includes a Static IP with related Gateway, Subnet, and DNS information.

Save the settings and reboot the device

After the MediaBridge restarts (between 1 to 5 minutes), it should be accessible at the IP address that was entered.

Navigate to the MediaBridge's IP address in a web browser.

Login with credentials (Default is admin/default).

Update the following information under Account Configuration:
Account ID
This unique name can be found in your CommandCenterHD Configuration page and is a case-sensitive field. Your account ID can also be seen as the text that appears between http:// and .channelshd.com in your account's URL. For example, http://spectrio.channelshd.com spectrio would be the account ID.
Account PIN
Your Account Pin is unique series of case-sensitive characters that acts as an added security precaution- prohibiting outsiders from accessing your MediaBridge. You can find your Account Pin by clicking the "i" icon in the top right corner of your CommandCenterHD dashboard.
Zone ID
You will be required to add a zone for each MediaBridge utilized. It acts like a channel, grouping devices within a server range. To do this, click the wrench icon in the upper right corner of your CommandCenterHD account. From there, go to the configuration page and click "Add Zone."
Web Cache Key
For those deployments with E Series (embedded player) devices, please also enter your Web Cache Key. Your Web Cache Key can be found on your CommandCenterHD Configuration page under the section Account Settings.
After making your changes to the Account Configuration section, press the Save Account Configurationbutton.

After the MediaBridge restarts (between 1 to 5 minutes), it should be accessible at the IP address that was entered.
Enable smartMediaBridge
Set Smart MediaBridge Enabled to "On"
Finally, click Save Account Configuration and Reboot the MediaBridge.
Configuring your Smart Player
Power on your Smart Player and it will pull a DHCP address from your network, and launch into the authorization screen. The DHCP address is displayed at the bottom of the screen prior to an authorization code appearing.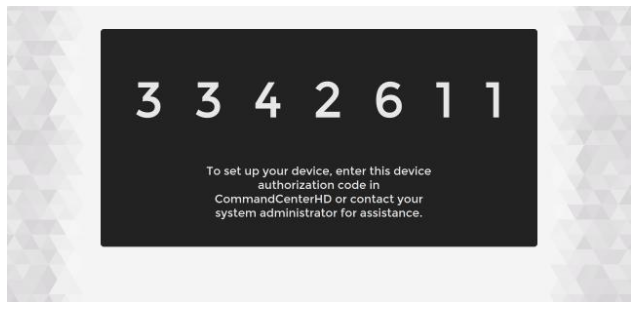 Adding Your Smart Player into CommandCenterHD
On your CommandCenterHD Dashboard hover over the icon Wrench in the upper right and click Devices.

From the Device Manager screen, click Authorize Smart Device.

Enter the authorization code from your player display and then click on the Authorize button
A new window will pop up prompting you to fill out information for this player. Be sure to fill out the required fields listed below:
Player Name
Choose a name to identify this player.
Player Status
Active status will allow the player to sync content.
Format
Choose your screen orientation.
Player Channel
Choose the content Channel you would like this player to display.
Connect Mode
Choose if this player will use a MediaBridge or the Cloud to sync content.
Location
Enter this player's location and click on the "Get Location" button.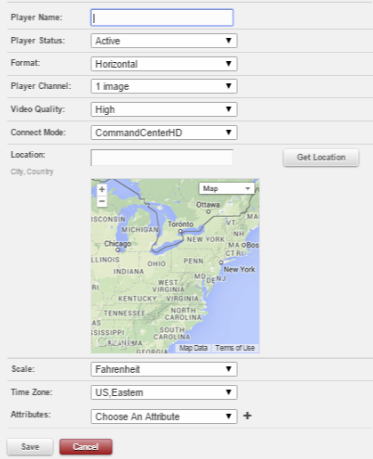 It will then take 5-10 minutes to register and then begin to download the necessary files for playback. Once these are downloaded, you will see content playback on the screen. The player will also apply any new firmware version found during this process, this could take up to 30 minutes.
To check the status of your Smart Player, find it in the list of devices on the "Manage Devices" screen in CommandCenterHD. Under the "Status" column, you will see an image of a yellow question mark next to each active player. If you simply click on the question mark next to your player, you will be able to see if your player has made it online or if an error has occurred in the process.
Accessing the Smart Player Web Console
After registering your device in CommandCenterHD, if you need to configure a MediaBridge, or would like to access the player for device management purposes, on a workstation that has network access to your player, open a web browser and enter the IP address displayed on the Industry Weapon Splash Screen into the URL bar.Username = adminPassword = default
You will arrive at the page shown below: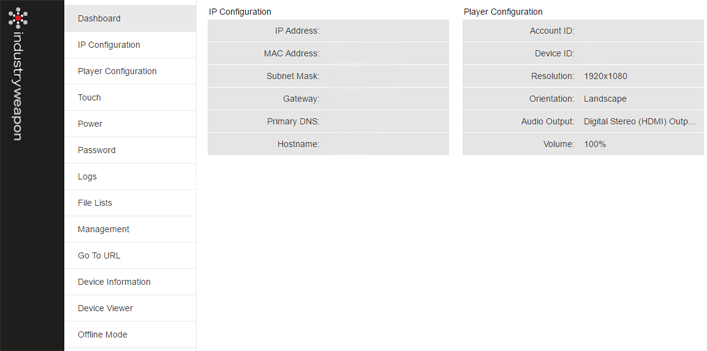 Configuring Your Smart Player for WebCache Content
Webcache is normally utilized for customized content integrations and is not used for standard deployments. In most situations, you will not need to do these configurations.
Note: Your MediaBridge must also be configured for WebCache Content
From the Devices page mentioned above, find your device and click the Edit icon.

Click the Advanced tab on the left and set Enable Web Cache to Enabled. If you are provided a subfolder name, enter it into Web Cache Sub ID.
Issues?
Give us a call at 877-607-0562 or email cchdsupport@spectrio.com.