Intro to Scheduling a Campaign in a Channel
In this Article we will review how to Schedule a Campaign to a Channel in ChannelsHD.
Once a Channel has been created, Campaigns will need to be added to create a set list of Campaign Slides for playback. Once a Channel has content, you can then schedule the Channel to a Device.
Additional scheduling tools are available in CCHD Apps. Playlists let you run multiple Channels; choose a master channel to run, and other channels can be scheduled as an exception. Using the Bulk Manager App, you can create and assign Attributes to a Device or Group of Devices. Then, you can deliver Campaigns specific to each Device, based on the assigned Attribute, with the Globalcast App.

Scheduling a New Campaign in a Channel
1. On the Channel Manager page, click on the Manage button associated with the Channel.

2. Click the Add Campaign button.

3. In the window, choose a Campaign from the Campaign dropdown.
Then, choose to either have the Campaign run as a Simple or Advanced Campaign: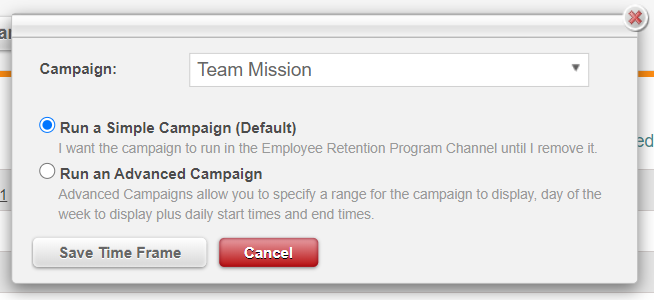 Simple Campaign - The chosen Campaign will run in rotation with the other Campaign(s) until it is removed from the Channel or changed to an Advanced Campaign.
Advanced Campaign - The chosen Campaign will run in rotation with the other Campaign(s) specified by a date range. You can choose additional settings based on the following information:
Days - Choose the days of the week you would like the Campaign to be in rotation. Selecting All Days

will play every day within the date range. To make exceptions for specific days, deselect All Days and leave checked the days the content should be in playback.

Time - Choose the time during the specified days for the Campaign to be in rotation. When scheduled to a Device, the content will playback specific to the Time Zone

set for the Device.

Remove Campaign from Channel after playback

- An automated management tool that removes the Campaign from the Channel

Repeat

- Choose a sequence for when the Campaign should repeat.
Repeats - Choose the sequence for the Repeat: Daily, Weekly, Monthly, Yearly.
Repeat Every

- Choose the frequency of the Repeat.

Ends - Choose when the repeat sequence should end: Never, After a Certain Amount of Occurrences, or On a Specified Date

.

Summary

- Recaps the repeat sequence detailed from the fields above.
Once the settings are confirmed, click Save Time Frame.


Edit Schedule for Campaign in a Channel
If you would like to change the schedule for a Campaign that is already in a Channel, click the Edit Schedule button associated with the Campaign:

Once finished making the changes, click Save Time Frame.